Below is a Bio I wrote in 2007. I hope to update it soon but you might enjoy it as it is.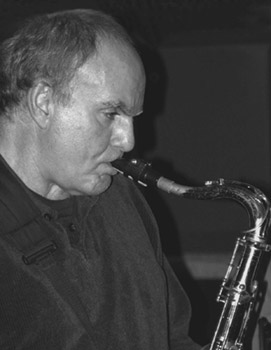 Last year I had 4 paid gigs for a life time total of 5. So I'm a 60 year old novice. Think of me as an up and coming teenager with a wealth of life experiences to draw on.
In third grade I tried the trumpet. But the blurbs, squeals and cow fart sounds that emanated from my horn made my family nuts and a petition from the neighbors sent my ax to the pawn shop.
In high school, thirty students from the all boys, Catholic institution in south Buffalo auditioned for the Christmas musical. Twenty eight were selected. I wasn't one of them.
During the folk revival of the early 60's my good friend, White Rat, went off to college and learned enough guitar chords to fake it as a folk singer. His tales of promiscuous college girls and snorting speed with the Holy Modal Rounders inspired me to buy a $25. guitar and $3. harmonica. I didn't do much with either until a seven week stint in an Ohio prison provided the ambience to develop truly sorrowful moan on the harp. That's about all the playing I did for a while.
In my college years jazz became a passion. Through a unique series of circumstances, after graduate school, I landed in NYC managing the infamous Slug's in the Far East. The club was situated on 3rd between B and C, the roughest neighborhood south of Harlem. It was wonderful and horrible. Night after night I heard fabulous music and got to hang with musicians I idolized. Sun Ra and his Solar Arkestra played every Monday night. Freddy Hubbard, Max Roach, Larry Coryell, Chico Hamilton, McCoy Tyner and Joe Henderson were regulars. On the other hand, Lee Morgan's wife shot him dead at the bar. Patrons were robbed in the 15 feet between the taxi and the entrance. The junkies knocked down the walls with sledge hammers to steal instruments and liquor. After six months of this I fled to Woodstock where good friends helped me get on my feet.
There was a lot of partying in Woodstock in the early 70's. Some one said, "Hey lets make our own party music!" We got together a girl singer, a wash tub bass, a guy who could play 3 chords on the banjo, me and, thank god, a real guitar player/singer. Add a cheap microphone and a carpet sweeper with duct tape for a mike stand, hook the mike into a stereo and we had a band! Ply the audience with alcohol and all manner of intoxicants that were popular at the time and we had a show!
I sang an Elvis tune and one lovely lady clutched her breast and swooned. (I'm sure alcohol and low blood pressure helped) Nonetheless, it proved to me what we all suspected. Musicians get the girls! I was motivated but, alas, the singer got sick, the wash tub player refused to practice and the guitar player broke up with his girl friend and moved on to other things. I met Diane, the love of my life and settled down, sort of.
As fortune would have it, I lost my job and qualified for unemployment. I considered that a sabbatical for pursuing my musical interests. I also launched a career as a free lance video maker which, amazingly, has provide me with a decent living for 30 years, but that's another story.
Nothing much happened with music for the next few years except for ear training with the composer William Ames. He was on his last legs, living in an unkept cottage behind his ex-wife's house. Several times I had to have my lesson in his hospital room. I think he really needed the 15 bucks.
Around 1980 a friend walked into my house with her deceased father's sax that she needed to store somewhere. It was a great old vintage Conn, Chu Barry model. I was in love! Many more years of playing in my basement ensued.
In the early 90's I had my house up for sale. Peter Einhorn came to look at it. He didn't buy the place but I signed up for his Woodstock Jazz Ensemble work shop and for the next seven years I played standards, with a bunch of other aging fledglings in his basement.
In 1997 I turned 50. To celebrate I hired some great players to back me up and invited about 100 close friends and family to party. I had a great time, mostly playing jazz instrumentals. I did, however, do two blues tunes. To my surprise, those tunes were more fun to play and were better received than the jazz tunes I had spent serious time studying.
About the same time the Sunday evening blues jam at the West Strand Grille run by Gary Schwartz and the Blues Rays began. I gave it a try and thought it went reasonably well the first time. I came back the next week and Gary introduced me to Ian, the Blue Rays horn and harmonica player. I said "I really like your playing." He said,"Don't play so fucking long. You took this long stretched out solo last time. Watch the singer for cues." I was chagrin. Gary put me up with a female singer and, as directed, I watched her for cues. She knew nothing! It was a train wreck! I slunked out of the place.
The next Sunday I was wracked with indecision. Should I go back? Would it be embarrassing? Would Ian be mean to me? I made it to the door of the club and spent 15 minutes standing there trying to screw up the courage to go in. I bit the bullet, went in and chugged a beer. Gary says, "Jump on stage right now." The fabulous Slam Allen was leading the set. He cued me to solo. I do one chorus and he said, "Take another one." I took a couple more and it was cool. We did a second tune and I see Ian jumped up on the stage. I didn't know what's going to happen. He played a lick and says "Try that." The next thing I know we're a horn section backing up Slam Allen. Was that cool or what?
From that day on Ian and Gary were my mentors. I played almost every week for 7 years. Other jams followed, most notably Big Joe Fitz at the Willow Creek Inn. His generous spirit gave me many opportunities to stretch out and try new things.
But there are serious limitations to jam sessions. So after decades of practicing by myself and only playing out in jams, I came to a mid life musical crisis. Was I any good? Was it worth all the time, effort an

d money? I had written a dozen songs that no one has heard. So I decided to make a CD. Either it would suck and I could quit fooling myself about being a player or it would sound good and I could move forward. Well, thanks in no small part to the contributions of the great musicians playing with me, it came out better than I expected. Now what am I going to do?